Case 2:Ms. Lau, 38

Surgery: laparoscopic gastric banding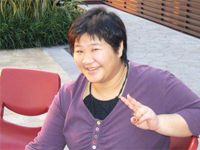 I am 38 years old now and I am working as a clerk. My history of weight loss is similar to other ladies, trying everything I could. I have tried both Chinese and western medicines and all sorts of special diets for weight loss, grapefruit meals, vegetable soup, meat diet, you name it. Most of them started quite well, my weight dropped a bit, but none of them lasted long, there was always a rebound.
Till 2008, I had laparoscopic gastric banding surgery, my weight dropped from 220 lbs to 150 lbs now. Thanks to the weight loss, I feel more energetic than before, giving me sufficient energy to have some outdoor family time with my kids.
To be honest, I have always loved to eat and a bigger girl all the time. I never restricted my diet, and meat has always been my favorite dish. Plus, I used to have night food. My appetite is scarily large, I can eat two bowls of rice and a pound of chicken wings in a meal and I can finish a dish of beef alone when I am having hotpot. I have a belief "even if I remove this piece of chicken skin, it wouldn't lose any weight", which makes me eat without much restriction and accumulates more fats.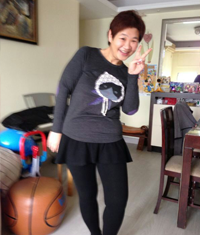 Thyroid problem, 4 years of medication therapy
10 years ago, there was a problem in my thyroid, which kept me on medication therapy for 4 years, together with zero restriction on my diet, there was a 60lbs increase in my weight. Seeing my swollen body, I tried to go to gym and joined the sliming treatment in the beauty centers, but the weight I lost was gained in a short period of time. This situation lasted till 2006, the hospital conducted a research on obesity treatment with the use of intragastric balloon and gastric banding, I immediately signed up for the research due to the frustration of previous weight-loss attempt. However, shortly after the application, I was pregnant and was forced to quit the plan. During my pregnancy, my weight rose to over 220lbs again due to overeating.
Inaccurate period and polycystic diseases
Obesity does not only limit my choices of clothes, but also my health. In 2008, I sought help from a gynecologist due to inaccurate period and polycystic disease. When the doctor was told about my desire to have bariatric surgery, I was referred to Dr. Wong. After some examinations, I was asked to have the laparoscopic gastric banding. 5 small holes were made on my abdomen for placing the laparoscopic instruments and the gastric banding, restricting the top part of the stomach, limiting my stomach volume. The day after the surgery I was able to walk and I was discharged after 3 days. The first month after the surgery I was only able to have soup, rice water, milk or other fluid diet, but normal diet was resumed after the first month with regular follow-up.
There was no special feeling about the gastric banding restricting my stomach, except the adjustment device under the skin in the abdomen, but I got used to it quickly. On the other hand, the thing I couldn't get used to was the nauseous feeling if I ate too much or too quickly. Luckily, upon adjustment of my eating habit, the situation was improved. My appetite goes down gradually with the help of the gastric banding, it was reduced from 2 bowls of rice a meal to half a bowl, little vegetables and meat. I lost about 2-3 pounds per month.
Two years after the surgery, I was pregnant again. The doctor loosen the gastric banding so that I could eat normally without affecting the fetus's nutritional intake. The banding was re-adjusted after I gave birth to the baby. In fact, thanks to the surgery, my weight returned normal and it made my period regular again. I was more active than before, and I had more outdoor activities with my kids, such as going to the park and swimming. I am happy about this.
---